MORP is Prom spelled backwards for a reason; it's an event opposite of Prom. While Prom is a formal event for juniors and seniors, MORP is a casual hangout time for freshmen and sophomores. The HKIS HS Library will be hosting its very first MORP on Thursday, May 16 from 3:30-6:30. There will be snacks and movies plus music–dancing could even happen if anyone becomes so inspired. For all the social networking fans, there will be a photo booth supplied with fun costume pieces. And of course, a party wouldn't be complete without PIZZA!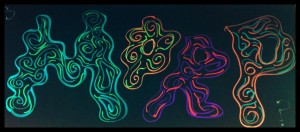 Come to HKIS HS Library's first MORP!
May 6, 2013 No Comments
We can't help you on the exam per se, but we can help you to study. The HKIS HS Library has made special schedule for rooms 405 H, I, and L. We've designated a study room for each exam that will be given at HKIS.  If that isn't enough, the project rooms may also be booked with up to six people sitting in each of the rooms. Those utilizing the project rooms must be all studying the same subject or working on the same project. Just see Mrs. Krembs to book a room.
The library wants to help you during this intense time of study. Here's the study schedule: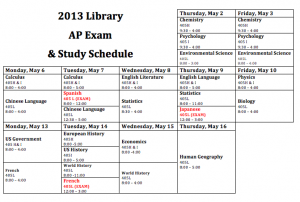 *Click on the schedule to see it enlarged.
May 2, 2013 No Comments
Instagram is a very popular photo sharing social network. It's most similar to Facebook and Twitter making a perfect compliment of those two other very popular social networks.
For awhile Instagram was limited to iPhones only through an app, but since it's rise in popularity, it is available now on other devices as well as an online version. Once a username has been created, one takes photos, has a chance to add interesting, rather enhancing, filters to their images, and then uploads them. The user may follow other individuals–either based on real life friendships (similar to Facebook) or based on similar interests (which is more like Twitter) and in turn the follow is often reciprocated. When one is looking through their feed, they will see all the photos uploaded of those they follow. "Likes" are triggered when appreciation for a photo is found; plus comments are made. The similar hashtags and @ tagging of usernames is used. Finally, when one uploads an image to Instagram, an option to post to other online networks is possible like Facebook, Twitter, Flickr, etc.
Ironically, a new art form of photography has come about with the rage of Instagram with the use of iPhones: it's called iPhoneography. Here's a sampling of my most favorite iPhoneographist: @magrelacanela.
And now, you can also follow the students, books, happenings, and events at HKIS HS Library's feed: @hkishslibrary!
April 7, 2013 No Comments