This year Teen Read Week is all about Turning Your Dreams Into Reality! We'll be trying to do just that by promoting the following activities in the HKIS HS Library:
* Dreamy decorations with your head in the clouds;
* A Dream Jar filled with all sorts of prizes;
* Dream Books ready for checking out;
* A schedule of Dreamy Movies served with popcorn;
* A Dream Window to list all your dreams;
* And, Dreamy Food on Friday from the Library Café.
Make sure to come enjoy Teen Read Week in your HKIS HS Library! It's all for you!!
October 15, 2014 Comments Off on What's the theme of Teen Read Week this year, 2014?
August 14, 2014 Comments Off on What did you read during summer, 2014?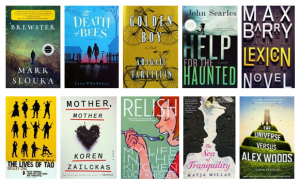 The Alex Award is given by YALSA (Young Adult Library Services Association). It is an award given to adult books that would be enjoyed by teens. The award is named after and sponsored by Margaret Edwards Trust; she was a librarian advocating for young adult fiction. Ironically, her friends called her Alex–hence the award's name. We have all this year's Alex Award books ready for you to check out in the library!
April 11, 2014 Comments Off on What is the Alex Award?